$19.99
AUD
Category: Mythology
Meet the fire-breathing beasts of mythology in this beautifully illustrated book brimming with scaled behemoths. Lurking in every corner of the earth, from the deepest depths of the oceans, to the tips of the tallest mountains, even tucked beneath the very ground that you tread on, dragons watch and wai t. They take many forms - sea monsters, serpents, wild cats, eagles, and they represent many different things; Gods to be revered, evil kings to be feared, wise friends and fierce foes.Dragons have breathed fire into our minds since we could first imagine, but why do they exist in stories from every land in the world? Come in and explore Dragon World. Look into their lairs while they make shape-shifting mischief, playing with the weather and protecting earthly treasures. Soar across continents into tales as old as time. Prowl through the pages to discover rare dragon species. Find clues to track them and master how to draw them. Behold the earthly dragons of today! ...Show more
$26.99
AUD
Category: Mythology
From monster-slewing heroes to ancient accounts of gods and goddesses from all around the world, such as Thor and Odin, the beautifully illustrated follow-up to Atlas of Monsters and Ghosts is a fun and fascinating journey through the realms of mythology, enthralling with tales of creation, legendary fa bles, gods and beasts. Accompanied by engaging text by Marzia Accatino, Laura Brenella's captivating illustrations take you on a voyage of discovery all over the globe. Guided by the centaur Chiron, young readers will vault across the world to learn about the powers and weaknesses of the gods, the adventures of the great heroes, the best ways to befriend strange creatures, and the most useful tricks for escaping terrible monsters. From Norse legends of valiant Valkyries preparing for battle to the powers of Ancient Egypt's gods and goddesses, this is an exciting introduction to the world of gods, goddesses and heroes for young kids. About Lonely Planet Kids: Lonely Planet Kids - an imprint of the world's leading travel authority Lonely Planet - published its first book in 2011. Over the past 45 years, Lonely Planet has grown a dedicated global community of travellers, many of whom are now sharing a passion for exploration with their children. Lonely Planet Kids educates and encourages young readers at home and in school to learn about the world with engaging books on culture, sociology, geography, nature, history, space and more. We want to inspire the next generation of global citizens and help kids and their parents to approach life in a way that makes every day an adventure. Come explore!   ...Show more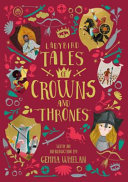 $27.99
AUD
Category: Mythology | Series: Ladybird Tales of... Treasuries
Join six kings, queens and warriors from around the world as they battle for crowns, vanquish dark forces and claim their thrones in this colourful illustrated collection of Ladybird Tales.
$29.99
AUD
Category: Mythology
Magical and mysterious, the merfolk of the world are notoriously elusive, but this enchanting compendium will reveal their secrets. Learn all about the beautiful Selkies of the Scottish seas, the wily Iara of Brazil who love to outwit travellers and the fearful Ningyo of Japan who can give you eternal l ife. This captivating book features a mix of mermaid 'facts' and short retellings of some of the most magical and enticing traditional merfolk tales. ...Show more
$35.00
AUD
Category: Mythology
From the West African fable of Anansi the Spider, to Tanuki, the sweet but troublesome racoon-dog of Japanese folklore, this encyclopedia of mythical creatures covers legends, tales and myths from around the world.
Items per page:
1 - 5 of 5