$29.99
AUD
Category: Animals and Nature
Enter the world of oceans and the animals that live in them. Swim with jellyfish, wonder at the busy life of a seagrass meadow, and fence with narwhals. Fish, sharks, whales, and invertebrates swim through the pages of this colourful ocean book, which combines gorgeous illustrations and photos to help young enthusiasts learn all about the world's oceans. From glowing jellyfish to deep sea dwellers, they'll discover the incredible secret world of life under the sea. They'll also find out how they can help take care of the ocean themselves. Earth's Incredible Oceans, written by animal expert Jess French and illustrated by Claire McElfatrick, takes children on a fascinating underwater journey, showing them just how amazing oceans are, what plants and animals live in them, and how we can help them. It includes all sorts of ocean life, plus amazing facts on how ocean animals have fun, look after their young, and interact with each other. ...Show more
$29.99
AUD
Category: Animals and Nature
Covering every horsey topic you could possibly want to explore - from discovering the different horse and pony breeds, to finding out how cultures around the world live with their horses, and learning how horse-lovers ride these magnificent animals - DK's Horses & Ponies is a one-stop shop for equin e knowledge. With colourful photographs and pictures on every page, this guide helps you become an expert in identifying the many different horse and pony breeds, from the enormous Dutch Draught Horse to the tiny Argentine Falabella. You will find out about all the ways that horses are an important part of our lives in different cultures, from sport, shows, traditions and celebrations, to transport, police work and even shrimp-fishing! This book answers all those questions that you've always asked yourself, including: What's the difference between horses and ponies? What is dressage? How do I steer a horse? How do horses communicate? How do they sleep standing up? What is the biggest horse that ever lived? And along the way, you'll learn how to understand and take care of your equine friends. ...Show more
$26.99
AUD
Category: Animals and Nature
Now you see them, now you don't! Cloaked in a riot of colour, pattern and texture are a dozen animals - from chameleons and polar bears to Gaboon vipers and mimic octopuses - that have mastered the art of fading into the background. Fact-packed pages segue into clever and beautifully illustrated seek-a nd-find spreads that put readers' newfound knowledge of each creature and its ecosystem to the test. Marc Martin jets budding conservationists around the world and shows them the secrets of animal camouflage. A perfect gift for animal lovers. ...Show more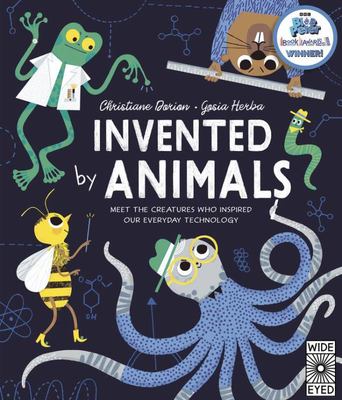 $24.99
AUD
Category: Animals and Nature
Humans think they invent everything, but the fact is, us animals have invented ways of solving problems, making unbelievable materials, ways of getting around and working out how to survive on our own for millions of years. In this book you will meet the animal inventors who have shared their super inve nting powers to make amazing things for humans. Often human scientists try and solve a problem or invent a new tool and they realise that animals have already invented it for them. In this book you will meet the animal inventors who have shared their super inventing powers to make amazing things for humans. We have invented ways of solving problems, making unbelievable materials, ways of getting around and working out how to survive on our own for millions of years. Sometimes when a human inventor gets stuck, they come to the animal kingdom to see if we can help them out. In this book you will meet the creme de la creme of animal innovators who have created or are in the process of inventing things that people use every day. Meet the shark who invented a pair of swimming shorts so fast, they were banned from the Olympic games. And meet the snail who has invented a house that stays cool inside even in the desert. ...Show more
$12.99
AUD
Category: Animals and Nature | Series: Little Lift and Look Ser.
Lift the flaps to follow a spotty frog around the pond and meet the other animals that live there. Babies will love lifting the chunky, shaped flaps to find the spotty frog and follow her around the pond to meet all the other animals that live there. Where's the spotty frog gone now? Babies can use thei r developing motor skills to find out! Meet a speedy fish, a hungry heron, five fluffy ducklings and lots of wiggly tadpoles, while you follow the spotty frog as she hops, dives and swims around the pond. ...Show more
$19.99
AUD
Category: Animals and Nature | Series: Usborne Book and Jigsaw
A beautiful, 300-piece jigsaw the 'Tree of Life' accompanied by a 16pp book packed with information. The jigsaw creates a graphic illustration of the whole tree of life from microscopic bacteria to rainforest ecosystems, full of information about how life works, what makes a living thing, and all sorts of the Earth's amazing plants and animals. ...Show more
$17.99
AUD
Category: Animals and Nature
*Winner, 2020 Museums Australasia Multimedia and Publication Design Awards (MAPDA)**Longlisted, 2020 World Illustration Awards**Longlisted, 2020 Australian Book Design Awards**Shortlisted, 2020 Wilderness Society Environment Award for Children's Literature**Shortlisted, 2020 Educational Publishing Award s*Age range 5+Did you know that platypus have retractable webbing on their hind feet to enable an easy transition from swimming to digging? That kangaroos can't sweat and that the cassowary has no tongue? In Fauna - Australia's Most Curious Creatures, readers are constantly introduced to facts that delight, amaze and induce sheer wonder at the clever design and adaptability of our much-loved native fauna. The information on each individual species is presented in small 'bites' to hold the interest of younger readers, while the information taken in total gives a comprehensive summary of each species, including breeding and feeding habits, physical characteristics, habitat and other unique and quirky features. Fauna also has a strong conservation message with an 'extinction roll call' and a rating for the vulnerability of endangered species. The stylised illustrations in Fauna are lively, colourful and informative, highlighting facts that lend themselves more to pictures than words e.g. the actual size of crocodile teeth, or the mechanics of the echidna's beak. There is also humour in the illustrations – is that kangaroo with dark glasses actually from a different kind of mob? Readers young and old will be delighted and informed by Fauna.Teachers' notes available here ...Show more
$29.99
AUD
Category: Animals and Nature
Did you know that there are plants that eat insects? Plants whose seeds spread in poo? Plants that move when you touch them? And plants that grow on other plants? Plantastic presents 26 of Australia's most unique and incredible native plants. Discover and identify native plants found in your local park, bushland, or even in your very own backyard. With its perfect balance of fun facts, activities, adventurous ideas and gorgeous illustrations, Plantastic will prove just how fantastic Australia's native plants really are Features: Full of interesting facts about Australian native plants that will get kids excited about the plant world and gently introduce general scientific concepts.Provides a Plantastic Activity for each featured species to encourage kids to search for and engage with the plants in their local area.Explains traditional Indigenous uses for some plants - including hunting, fishing, building and medicine.Includes common plants with wide distributions so that kids can discover more about their local flora, no matter where they live in Australia.The bright and beautiful illustrations will help kids easily recognize the plants from this book out in the wild.   ...Show more
$24.99
AUD
Category: Animals and Nature
We're on an adventure with 1,001 bees Come visit the bees in their hive, meet their queen, and discover how they collect pollen. Then join them as they visit their favorite flowers, work on their honeycombs, and venture out to find good spots for their home.1,001 Bees is an engaging nonfiction book for children full of fascinating facts about nature. With lively and appealing illustrations, it's a must-have for children who are curious about bugs and the animal kingdom.   ...Show more
$29.99
AUD
Category: Animals and Nature
Did you know that feeding seaweed to cows can reduce the methane in their burps and farts by more than half? Or that a forest of kelp absorbs more carbon than a tropical rainforest of the same size? We can even make edible bioplastics from seaweed! Beyond the tideline, there are around 10,000 types of seaweed. An essential ingredient for life on Earth, seaweed has sustained animals and people for many thousands of years. From ancient history and mythology to modern uses in food, health and medicine, discover how seriously cool seaweed is, and how it can even help tackle climate change. Complete with a guide to common seaweeds and foraging guidelines, this charmingly illustrated picture book will educate and inspire, and encourage respect for the natural world. ...Show more
$19.99
AUD
Category: Animals and Nature
From beautiful butterflies to kaleidoscopic Christmas beetles, First Nations author and illustrator Helen Milroy returns to the backyard with a picture book designed to teach kids (and their handlers) all about the scurrying, scuttling, scooting, buzzing, zooming splendour of insects.

$24.99
AUD
Category: Animals and Nature
Embark on a journey through the enchanting world of the rainforest in Charlotte Milner's beautifully illustrated The Rainforest Book. Sweep aside the liana vines, hop over the giant roots of the kapok tree, and follow the sound of the howler monkey as you venture into the tropical rainforest. Find out about some of the amazing animals that live there, learn about the enormous variety of life-giving plants, and discover why the Amazon rainforest is known as the 'lungs' of our Earth. In this beautiful book, Charlotte Milner continues to highlight the important ecological issues faced by our planet, following on from The Bee Book, The Sea Book, and The Bat Book. Did you know that over half of our planet's wildlife live in the rainforest? And that at least 2 metres of rain falls in the rainforest every year? The world's rainforests are packed with amazing animals and plants, from the deadly poison dart frog, to the stinky rafflesia flower - there is plenty to discover!As our planet's climate crisis becomes even more critical, The Rainforest Book is the perfect way to introduce little nature-lovers to this enchanting yet threatened world. This celebration of the rainforest shows children just how important it is, and reminds them that it is up to us to care for our planet and its wildlife. ...Show more